Sale
Vitamins, Minerals + Amino Acids
Raspberry Organic Sparkling Yerba Mate
Ingredients
purified sparkling water, organic can sugar, organic erythritol, organic yerba mate extract, organic hibiscus extract, citric acid, organic raspberry flavor, organic wildberry flavor, organic rose essence, organic lemon extract, organic stevia extract.
Customer Reviews
Write a Review
Ask a Question
07/27/2020
Hannah S.
United States
Great source of caffeine without all the sugar
I work a graveyard shift so these drinks really help me get through my shifts feeling more energized and healthy. This is the only caffeine drink I've found with this low of sugars, calories, trans fats ect and supports a great cause!
07/08/2020
Darcy R.
United States
Love it!
Raspberry s my favorite flavor! I receive my shipment every other week & it works out perfectly!
06/19/2020
Katy
United States
Awesomeness
Awesome! Thank you!
06/18/2020
Heather K.
United States
LOVE!
This is the best discovery ever!! I love and support this company 110%❤
06/17/2020
Garrett S.
United States
Great drink!
Love your drinks and customer service!
06/16/2020
Gary S.
United States
Yum!
My second favorite flavor, and it's still far and away so much better than all those other guys. And it supports a great cause...I'm a huge fan!
06/08/2020
Jane P.
United States
Raspberry...More like RadzBerry, Nawmsayn?
I have been a true mate of the yerba (see what I did there? I'm ridiculous.) for about a year. From brewing it at home, to the party store purchase. I am a recovering energy drink junkie. Caffeine is a must have, but coffee with all of it's comforts sometimes just is not that refreshing and regular tea doesn't have a kick. Clean is the perfect "meet-you-in-the-middle" beverage that is fizzy, refreshing, light, but powerful in the energy dept. No shaky jitters or nasty aftertaste in your mouth like most sports drinks. My boyfriend and I bought out the party store near us and it took them a little too long for our liking to restock. We found another gas station and took all theirs, too. Finally we just decided ordering direct is the way to go. And I love the cause you support. I have lost more people than I care to say to addiction. I have been around for their struggle and have seen that it isn't as easy as you would think to get help. I am 100% in favor of helping recovering addicts receive the forever-care they need both mentally and physically. We need more advocates for the awareness and prevention of this spreading disease. Together, we "can" do it. <3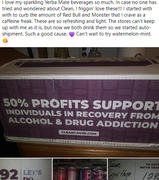 05/25/2020
James H.
United States
My Favorite
Really enjoy the Clean Cause brand. They don't sell it around where I live in MN, and am grateful for the ability to order it online. Love all the tastes I have tried so far, and don't get any of the negative effects that I have gotten from other energy drinks. Have to say that the Raspberry is my Favorite so far.
05/18/2020
Amanda P.
United States
Great flavor
AMazing clean seltzer with caffeine!